Staley Museum In The News
Garden Party 2021
June 26, 2021 • 1-4pm
Join us for a Garden Party
Admission will be waived in favor of monetary donations to the museum.
Peruse The Prairie State Model T Ford Club and The Land of Lincoln Model A Ford Club while listening to live music from the Sidewalk Stompers. The UIUC Master Gardener's will be available to discuss all things gardening on the lawn. Make sure to cool off with some light refreshments and visit the
museum to see new exhibits, too. Refreshments and entrance to the museum are included with a donation to the museum.
The Staley Musuem
361 N. College St.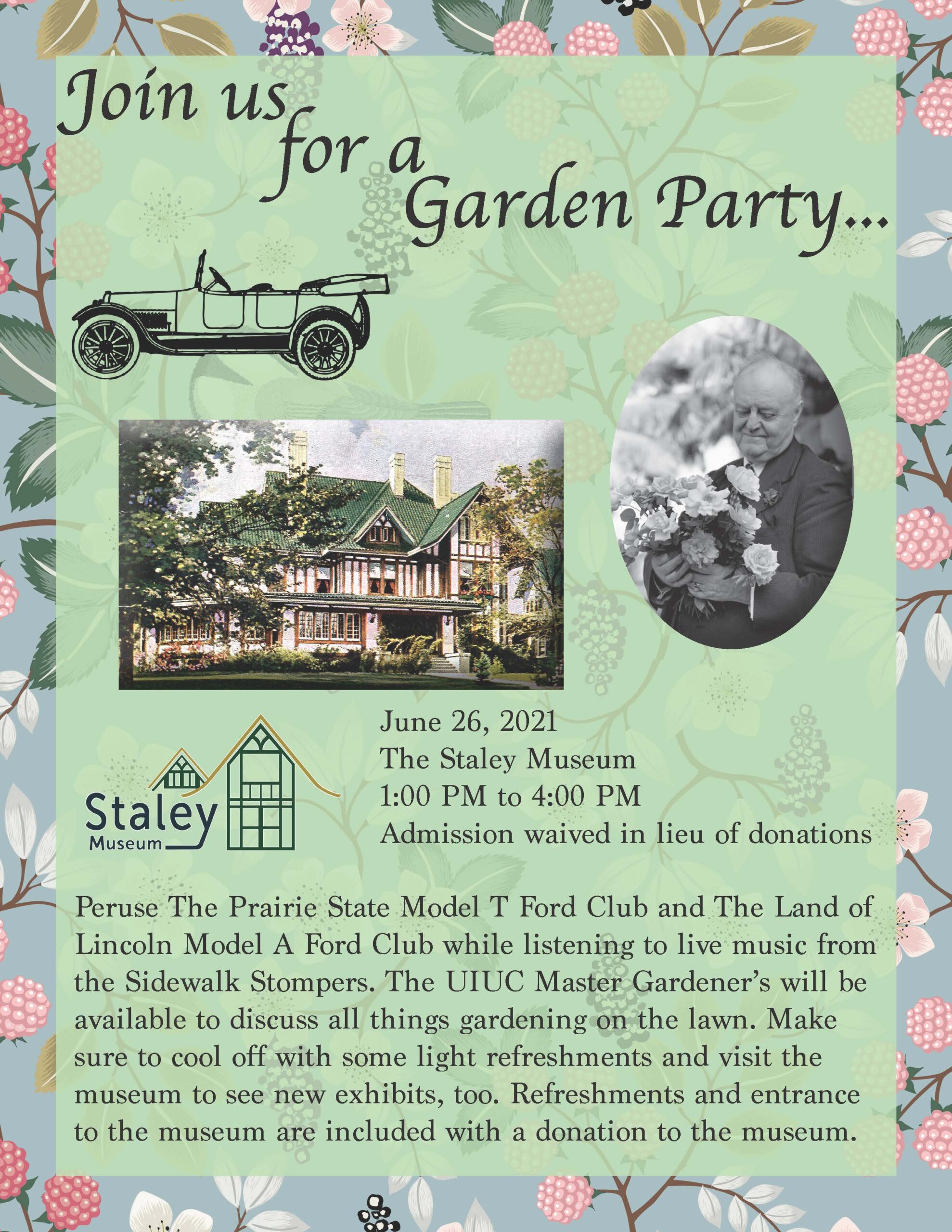 Saturday May 8th
Make sure to put our first event of the year on your calendar! You won't want to miss out on this! ... See MoreSee Less
Would you make a fb event for this so I can add to my online calendar and share?
Friday May 7th
Great picture and post from History of the Heartland!Dignitaries gathered around home plate prior to the very first game at Fans Field, 94 years ago today, Opening Day, on May 5, 1927. 7200 fans were in attendance despite threatening rain. The Decatur High School band was on hand in their red coats.

Legendary Commissioner of Baseball Kenesaw "Mountain" Landis stands next to A.E. Staley on the far left. Staley was instrumental in Decatur's acceptance into the "3I" league, and a key organizer of the Fans Field site committee.

Also on hand is William Veeck, Sr., President of the Chicago Cubs (and father of baseball promoter Bill Veeck) on the other side of Staley.

Photo: Decatur Public Library

Also See: The Staley Museum ... See MoreSee Less
Load more